I've lived a lot of my life in Florida, so the word 'storm' to me conjures up memories of hurricanes.
I remember my Pap-pa, Hoyt Cook, talking about a hurricane, but I don't know when – before they had names – but he said it drove a piece of pine straw like a nail into the trunk of a tree.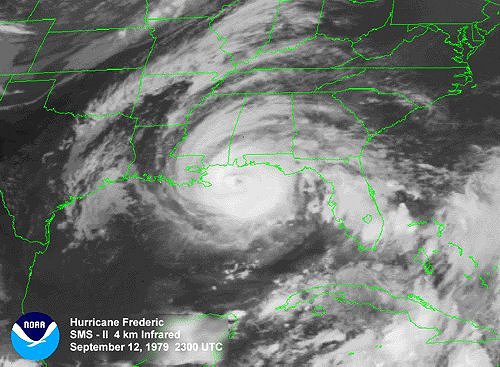 The first one I really remember was Frederic in 1979. I was 13. We lived in a concrete block house (where my mother still lives), and the neighbors came from their wood-frame house to stay with us. We had hurricane lanterns with kerosene and candles, as much as flashlights. The storm made landfall in Mobile Bay, so we were on the east side of the storm – known to be the worst side. I remember going out at one point when things quieted down, and we thought the eye was passing over, but it couldn't have been; we were too far east.
When I was in college, we had Elena and Kate, both in 1985. Kate didn't hit here, but we thought it was headed our way for a while. It was a great excuse for telling the director of whatever show I was in that my mother wouldn't let me leave the house. Instead of rehearsal, I went to see Gene Roddenberry speaking at the University of West Florida. I don't remember what he said, but I was thrilled to see the creator of "Star Trek" in person.
Elena was a strange one. It made loop-de-loops along the coastline, eventually making landfall in Biloxi. I remember not being worried when it was coming straight for us, then becoming concerned when it turned, and sure enough, it turned back our way. Lucky for us, it went past. Never seen one like that again (and hopefully won't ever.)
From September 1989 to March 1992, I lived in Boca Raton, in South Florida. I left my job, came home to Pensacola for a few months to prepare for my wedding, got married in May and moved to St. Louis. In August, Hurricane Andrew hit South Florida. I remember watching the scenes of devastation on TV and bursting into tears, because I lived in a mobile home park, and there but for the grace of God.
By 1995, my husband and I had moved to Pensacola. That's the year we had the double punch of category 2 Erin in August and category 3 Opal in October. We were living in a trailer on the old family homestead in Beulah. I remember driving out after the storm, fearing what we'd find, and being so relieved the trailer was okay.
Then we had a few years without major hurricanes. In 2003, we started shopping for a house. Before we bought, we looked into building, but we wanted concrete. No one we talked with worked with block, and the "ice chest" styrofoam-form concrete houses were fairly new in the area and very expensive. Several people we talked with scoffed at the idea. "Why do you want concrete?" they'd ask. "That's what you have insurance for." Some of them have now learned, it's better to build strong than to fight with the insurance company.
We eventually bought a concrete block house, built in the 1950s, around the same time my parents built their house. We closed in January 2004, as I recall, and we were taking our time moving in, doing renovations on the weekends. Then hurricane season arrived, and it was one of the worst on record (at that time). Four named storms hit Florida that year. As each one formed and slammed into the peninsula, we started speeding up our move. Then came Ivan. As it barreled towards us, gaining strength, we stepped up the packing. On September 14th, it was time to move the cats over. We had 12 at the time. We had the bright idea of putting a cage that we had in the back of my mom's station wagon, planning to carry the cats out one at a time and place them inside. They'd be together and could comfort each other. The trouble came when we took out timid Misha. Tim was carrying her and she started fighting and kicking, just shredding the skin on his arms. I tried to help and she chomped down on my hand. We both knew that if we let her go, she'd run off into the woods and she might be killed in the storm. Tim finally threw her into the car and we slammed the hatch; fortunately the safety hinges shut fast enough. My bite was deep and I knew I'd need to go to the E.R. Tim got the rest of the cats and we took them to the new house, and then went to the hospital. I remember sitting in the waiting room when the Channel 3 morning show came on, which began our wall-to-wall coverage. I feared I'd have to have stitches, but fortunately, they don't sew up cat bites because of the risk of infection. I had an x-ray to make sure Misha's tooth didn't break off in my hand, then I was bandaged up. By the time we were done, I was able to lie down for just a little bit, before I needed to report to work. I remember sitting in the control room, my right hand bandaged, the waves crashing over the Pensacola Beach pier. My shift ended a few hours before the storm made landfall around 2:00 a.m., just west of Pensacola. Curled up in the sales office, I slept like a log through the worst of the storm. As the sun dawned on September 16th, I got a call from home. The scratches on my husband's arms were getting infected. He'd been in and out in the rain throughout the storm, and waded into the flooded street to help neighbors clear downed branches. I think the neighbor dropped him off at the station, and we drove to the hospital once again, dodging power poles, downed trees, and pieces of buildings. We were lucky; our house had very little damage, but Ivan was brutal to the greater community. At the hospital, beautiful large oak trees were down all over the parking lot – and on cars parked there. We made our way around to a medical triage tent; the power was out in the hospital. Unbelievable experience.
The next year we had Dennis and, to a much lesser extent, Katrina (as far as we are from Waveland, Mississippi, our power was out for three days).
Again, a period of respite, with only the occasional tropical storm. Then in 2020, on the 16th anniversary of Ivan (right down to the hour), Hurricane Sally struck. Sally was bad for some people, but overall, it was not as damaging as Ivan.
I wonder sometimes what my Florida pioneer ancestors experienced. They probably didn't get as much warning as we have now; we can follow along the track and the various weather patterns that affect a storm's movements. We have an idea of the strength, based again on weather patterns and water temperatures. It's not an exact science, but it's still better than having a hurricane show up unannounced. Beyond that, the ancestors probably had an easier time of it; they wouldn't have to worry about extended power outages, since they didn't have electricity. They wouldn't have to worry about a loss of water pressure, because they used outhouses and hand pumps (or buckets to bring water from the creek). I've looked up some past years and seen where named storms passed close to where my ancestors were living, but I don't know the size of the storm (Dennis's hurricane force winds extended 40 miles from center, compared to Katrina where the hurricane force winds were felt 120 miles from the eye) or how it would have affected the old homestead (for the Pittmans, near the aptly named Hurricane Creek).
At any time in history, hurricanes can affect homes and barns, fences, and crops. They can cause dangerous flooding (storm surge and inland flooding from heavy rains), which can be a great loss of life. Falling trees still kill people in hurricanes, too. It's a dangerous factor for anyone living in Florida from 1559 to present.